Thank you to all of our generous donors who helped us raise
$54,330
from the 2020
Virtual Gala and Silent Auction!
If you were unable to join us for the Gala,
you can watch it via the link above.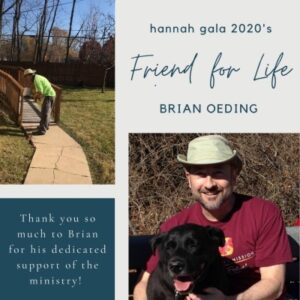 Congratulations to

Brian Oeding for receiving the 2020 Friend for Life Award! We are thankful to Brian for his service for many years as a faithful volunteer and for for his efforts as the coordinator of volunteer groups from Sherwood Oaks Christian church. He is truly a Friend for Life and we appreciate his dedication to this ministry.
Special Thanks to our Corporate Sponsors:
Platinum Underwriters
Exterior Finishes

Dillman Farm
Gold Underwriters
K. Luke Eads, DDS

Bill C Brown Associates, Jeff Huston, Agent

Huntley Excavating

Sherwood Oaks Christian Church Pro-Life Group
Silver Underwriters
Mission Auto Care

Southern Indiana Pediatric Dentistry

Comprehensive Financial Consultants

Service Master Restore

Dr. John Labban, OBGYN
Special Thanks:
Jimmie Dean Coffey and United Country Realty and Auctions
Our Silent Auction Donors:
Ackerman Auto Detail

Autozone

Buskirk Chumley

Erika Barnhill/ Passion for Healthy Living

Bloomington Carpet Cleaners

Natasha Stogdill/Natasha's Catering

Olive Leaf and Bloomington Chocolate Company

Twisted Sisters Custom Designs

Pixel and Brush Studio, an Etsy Shop

Love in Bloom Weddings

Heartseas Farm

Stines Designs

The Cottage on Kirkwood

Tonya's Touch

Stafford Music

PopKorn with a Twist

Cindy Johnson

Maria Wade

Teresa Carey

Georgette Harris

Hoosier Heights

Vibe Yoga

Pitaya

Fresh Thyme

Finney Hospitality