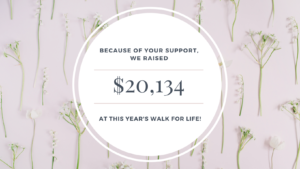 This year's Walk for Life and Fall Fest was a massive success! We want to thank our walkers, donors, and Corporate Sponsors for their support. Because of you, we're able to serve at risk children, parents, and families.
This year we raised a total of $20,134! Congratulations to Reformed Presbyterian for receiving the Impact Award, their congregation raised $4,470! Emmanuel Baptist was given the Unity Award for having 25+ walkers, tons of volunteers, and food donors who made a delicious lunch at the Walk. We also want to thank Emmanuel for all their hard work and hospitality hosting this year's Walk. We want to say a special thank you to the Archer family who raised $4,130, the Williams Family for raising $500, and Harrison and Solomon Grooms for raising $1,145.
———————————————————————————————————————————————-
Our 37th annual Walk for Life (and Fall Fest) will take place
September 16th at Emmanuel Church.
This is a fun, family friendly event to support the Hannah Center.
Walkers/Fundraisers will raise pledges prior to the event. Prizes will be given for top earners as well as the group/church/teams who have the most participants and who raise the most!
We will have food, prizes, games, a bounce house, pie eating contests, and more! We are encouraging our supporters to participate by creating

a

campaign page and sharing it
through social media and email,
as well as helping us recruit others to
create online fundraising pages!
We will help you every step of the way.
We hope to see you there!
How to Get Involved:
Step 1: Register to become a Walker through the link above.
Step 2: Fundraise by asking friends, family, and colleagues to sponsor you in the Walk for Life with pledges and donations to support the Hannah Center. They can pay their pledge online through your fundraising page, mail in a check, or they can give you the money to turn in. (Note: You don't have to personally collect/ turn in all the money; we will bill donors for outstanding pledges).
Step 3: Enter pledges and donations on your fundraising page or record them on a paper pledge form. Anyone not attending the walk should turn in their pledge forms (or make sure they are all entered online) by Friday, September 15th to be eligible for prizes.
Step 4: Join us at the Walk for Life at Emmanuel Church on September 16th. Registration is at 9:30am. Bring any money that was collected as well as your paper pledge form (if you collected pledges offline). We will have food, prizes, and a lot of fun! Or, if you are unable to attend, just walk at your home or in your neighborhood (or anywhere you would like, any distance you prefer). Remember to update your donors about what you are doing for your walk and that you participated.
If you would prefer not to raise pledges, you are still welcome to

walk

with us and join in all of the fun activities.
Are you part of a small group or organization?
Get a team together from your office, church or group! Prizes will be given to individuals who raise the most, as well as awards for churches and organizations
who get a team together and raise money.
If you need more information, please let us know. All documents can be downloaded below.
Thank You to Our Walk for Life 2023 Corporate Sponsors!